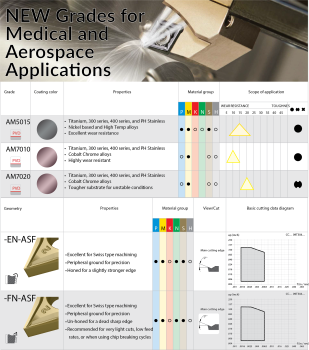 NEW Grades AM7010 / AM7020 / AM5015
ISO Turning Inserts for Medical and Aerospace Alloys
Three new PVD coated grades are increasing tool life in some of the toughest Medical and Aerospace alloys such as Titanium, Cobalt Chrome, Inconel, and PH Stainless Steel
These are precision ground inserts for the production of smaller components. Two edge definitions are available:
Dead sharp: for extremely light cuts and low feed rates or when utilizing a chip breaking cycle.
Honed edge: for deeper cuts at higher feed rates and in interrupted cuts.
Check out the Tool-Tipp brochure for more information and available geometries:
https://arnousa.com/assets/main/doc/catalogs/tool-tipp-am7010-und-7020_usa_final_pdf.pdf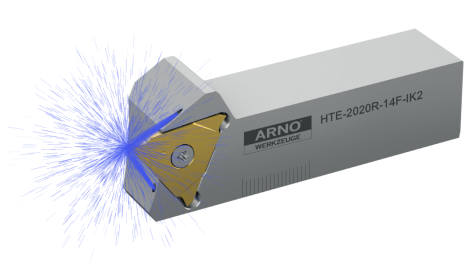 Monoblock HTE Grooving
Three Edge Through Coolant Grooving System
Precision, versatility, and economy... the HTE grooving system has been offered within our ARNO FAST CHANGE Swiss program, but now it's available with INCH and METRIC monoblock shank for more traditional applications. This latest expansion includes 5/8", 3/4", and 1.0" square shank with the same IK2 dual port through coolant that was offered with the AFC tools.
This rounds out an extremely competent family of tools... starting at 0.8mm (.031") grooving width and going up to 6mm (0.236) with a max depth of cut of 6.5mm (0.256"). The peripheral ground precision inserts come in traditional square groove and full radius configurations.
Jump to the HTE solutions page to browse tooling and insert options: https://arnousa.com/solutions/hte-3-edge-grooving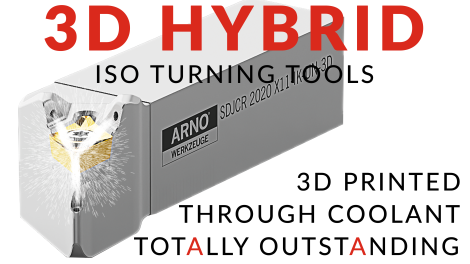 Introducing: 3D Hybrid Through Coolant Turning Tools
3D Printed for Unrestricted Flow
The latest through coolant innovation from ARNO Werkzeuge... 3D Hybrid OD turning tool holders. Additive Manufacturing now allows us to create internal channels that encourage more natural coolant flow from the induction point to the cutting edge of the insert. The future of internal coolant is the elimination of restrictive cross-drilled holes, and ARNO is leading the way.
Jump to the product selection page: https://arnousa.com/solutions/through-coolant-iso-turn/3d-printed-iso-turning-tools
See the video: https://youtu.be/wrHHjWZo_Bg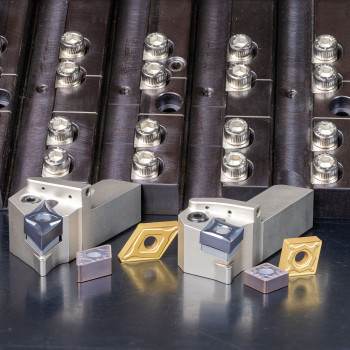 negative turning is now available for arno fast change
The quick change revolution continues at ARNO...
With the addition of two new tool heads utilizing ISO standard negative inserts that are designed for use in the ARNO FAST CHANGE system.
For customers doing larger work and taking more aggressive roughing cuts, the addition of ISO negative inserts will be a further boost to productivity. choose from CNMG / CNGP 43 and DNMG / DNGP 44 series with 16mm shank ARNO FAST CHANGE tool heads.
See pages 58 and 59 in the latest Swiss solutions catalog here:
https://arnousa.com/assets/main/doc/catalogs/2022.11_catalogue_auto_lathes_eng_ita_frz-(692-page)_us-cover.pdf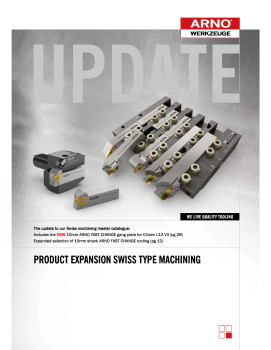 ARNO FAST CHANGE for Citizen L12 type VII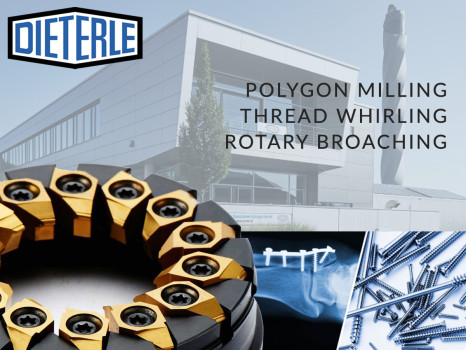 Dieterle and ARNO USA Combine Expertise For The North American Swiss Machning Market
Dieterle products are now available in the North American market through ARNO USA. This is an exciting development for our Swiss customers because the finest German cutting tool systems can now be accessed through our Harvard, IL headquarters.
The cooperation with Dieterle adds thread whirling, polygon milling, rotary broaching, and the finest "soft material" machining tools to our already robust suite of solutions for the Swiss machining market.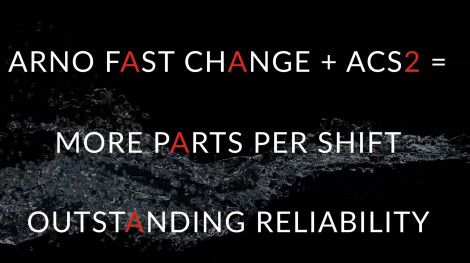 ARNO FAST CHANGE adds ACS2 Coolant Delivery
The innovative ARNO FAST CHANGE System just got better...
When you're running high production lots in a lights out operation, there is no room for surprises that will cost spindle down time. That's why ACS2 parting on your FAST CHANGE gang plate makes perfect sense.
ARNO's ACS2 (Arno Cooling System) has been a game changer in traditional production parting and grooving operations for years. ACS2 provides two sources of coolant through the tool, directly to the cutting edge... one under the clamp to immerse the top of the insert where the chip is formed, and one vertically under the flank of the insert. This design allows for the ultimate in cutting edge cooling without the need for external coolant lines. The result is increased tool life, improved chip control, and to introduce more process stability.
More parts per shift and outstanding reliability... how cool is that?
Click here to see the selection on our website.

Watch the video for more details...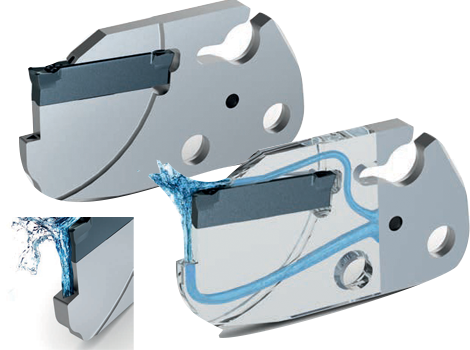 3D Printed Blades
Our motto "cool from the start" is about to get a little cooler! Our quest for industry leading innovation continues as we introduce our line of 3D printed MSA parting modules.
We have augmented our world class ACS2 through coolant technology with a range of Arno Specific mount (MSA-S) and Industry Standard mount (MSA-I) modular blades with game changing 3D printed options.
How will this benefit your operation? 3D printing eliminates cross-drilled coolant holes that can sometimes meet at sharp or obtuse angles. All of the coolant can now flow unimpeded in the most direct route from the your adaptor to the cutting edge. 3D printing also allows us to produce the flank port in the shape of a triangle which delivers the coolant more effectively to where it needs to be. These features will create one critical benefit; getting more coolant to the cutting edge of your insert than nearly any other parting / grooving tool on the market today.
When searching for MSA Modular blades, just look for the "-3D" suffix (ex: MSA-IL-SA1602-L41-20-ACS2-3D or MSA-SR-SA2402-44-ACS2-3D)
ARNO's 3D printed modular blades offer more parts per edge, better surface finishes, and more process stability… how cool is that?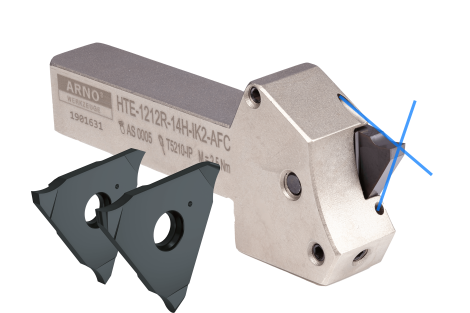 HTE - The Three Edge Precision Grooving System with Through Coolant
ARNO has extended it's range of ACS2 coolant capability.
The NEW HTE Precision Grooving System features a three edge insert for better economy and two coolant ports for greater tool life.
The inserts are precision ground for the best accuracy and edge definition and are available in widths ranging from .080" (2mm) through 0.236" (6mm) with full radius options as well
This is an unbeatable combination when paired with our Fast Change gang plate where you have the advantage of through the tool coolant with the benefit of 30 second tool changes. How cool is that?
The HTE Precision Grooving System is well suited for Swiss machines and traditional CNC lathes. Our insert grades offer strong performance in Stainless Steel, Titanium, High Temperature Alloys, Steel Alloys, and non ferrous materials such as Aluminum, Brass, Copper, etc...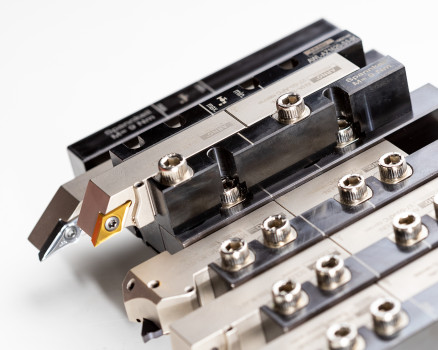 ARNO Fast Change - Z Axis Extension Adaptor for Extended Nose Collets
Using an extended nose collet? No problem here, in addition to our offset head turning tool selections, we also have Z axis extensions that fit right into our GTF and BTF series AWL gang plates.
Adaptors for the 12mm tool slots offer 15mm and 20mm offset options while the 16mm tool slot adaptors only offer a 20mm offset.
And don't worry, the extensions pick up the through coolant from the gang plate and deliver it to the fixed stop to give you uninterrupted high pressure coolant to the cut zone.